Hoy es cumpleaños del maestro Robby Krieger, guitarrista de The Doors. En Enero del 2015 tuve la oportunidad de ir a NAMM en Anaheim, California. En este evento, hice dos performances en vivo: una en el booth de Jim Dunlop (MXR) y en el booth de Gibson (Kramer Guitars USA), con el motivo de la presentación de la guitarra Nite V Charlie Parra. Antes de salir a tocar en el booth de Gibson, estaba afinando y calentando en el pequeño backstage, cuando se acerca una de las representantes de la marca:
– Charlie, te gusta The Doors?
– Me encanta! Por qué?
– Quieres conocer a Robby Krieger?
– …Ehh… Ehh… Ya.
Se presentó como "Hi, I'm Robby". Una de las razones por las que toco guitarra es "The Doors", definitivamente. El riff inicial de Roadhouse Blues, Love me 2 times, los acordes de People are Strange, LA Woman, etc. marcaron mi vida, sobretodo en mi adolescencia. Conocerlo en persona me hizo recordar cuando en el año 2001 trataba de sacar el solo de guitarra de "Light my fire" y me parecía la escala más extraña del universo. Me preguntaba siempre "Qué habra fumado este CSM para hacer esta maestría?"
Cuando le dije si podía tomarme una foto con él me dijo que sí. Le agradecí muy nervioso y me dijo:
"Let's have another one, my hair looks good now". Gran, gran experiencia. Luego fui a tocar en el booth de Gibson y esa es otra historia.
Aquí mi versión de Light my fire. Hasta pronto!!!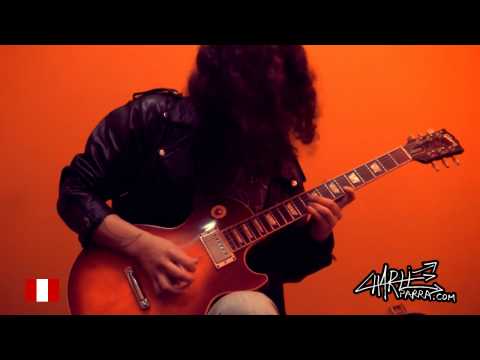 Charlie